Santa Cruz Earth Day Celebration
Join us for the Santa Cruz 2023 Earth Day Celebration at this multi-site event. Read below for more specific details and what will be included at each location.
This is a free family-friendly community celebration to promote environmental stewardship, healthy living, and sustainability.
Come build community and lean into climate action while you enjoy performers, live music, eco-minded exhibitors, inspiring conversations and arts and crafts.
Cooper/Pacific (off Abbott Square)
We are very excited to bring back our annual Earth Day Santa Cruz celebration in 2023! This year we bring the event to a new location, in beautiful Downtown Santa Cruz on Cooper St, Abbott Square, and the MAH. We look forward to gathering local businesses and organizations for a day of fun and environmentally focused activities and education. We will feature live music from Coffee Zombie Collective, face painting, a photo booth, lots of food options from Abbott Square and our other downtown eateries, and many activities for kids to take part in and even earn a sweet treat by participating in our interactive Passport Program. We will also be putting on an environmentally focused fashion show featuring local kids from the Fashion Teens program. We look forward to seeing all of you for Earth Day 2023!
Free parking will be available at the County building, located at 701 Ocean St. It is a short walk across the pedestrian bridge to the event.
Enjoy FREE ADMISSION plus these following presentations and festivities brought to you by the Santa Cruz Museum of Art & History:
Abbott Square Activities:
Family fun with the Hoopin Honey's
Bubbles, Arts & Crafts
MAH Activities:
Free MAH Admission includes access to:
Exhibitions on view: Bay of Life: From Wind to Whales, Writing on the Wall, Santa Cruz & the Santa Cruz County History Gallery
Earth Day Scavenger Hunt with Prizes
MAH Earth Day, Big Basin Park Presentations:
1-2pm: The Unique Role of Santa Cruz in Saving Big Basin Talk by Traci Bliss
2:30-3:45pm: Post CZU Fire: The Big Basin Experience panel discussion: Forest Sustainability, New Programs and Park Access.
4-6pm: Video Screenings by Friends of Santa Cruz State Parks and Mountain Parks Foundation.
Abbott Square Stage:
12-1pm: Coffee Zombie Collective
2-2:30pm: FashionTeens Fashion Show
2:45-4pm: Coffee Zombie Collective
And just over the San Lorenzo Bridge visit the Earth Day celebration hosted by Hotel Paradox, located at Upper San Lorenzo Park for more fun, activities, and environmental education!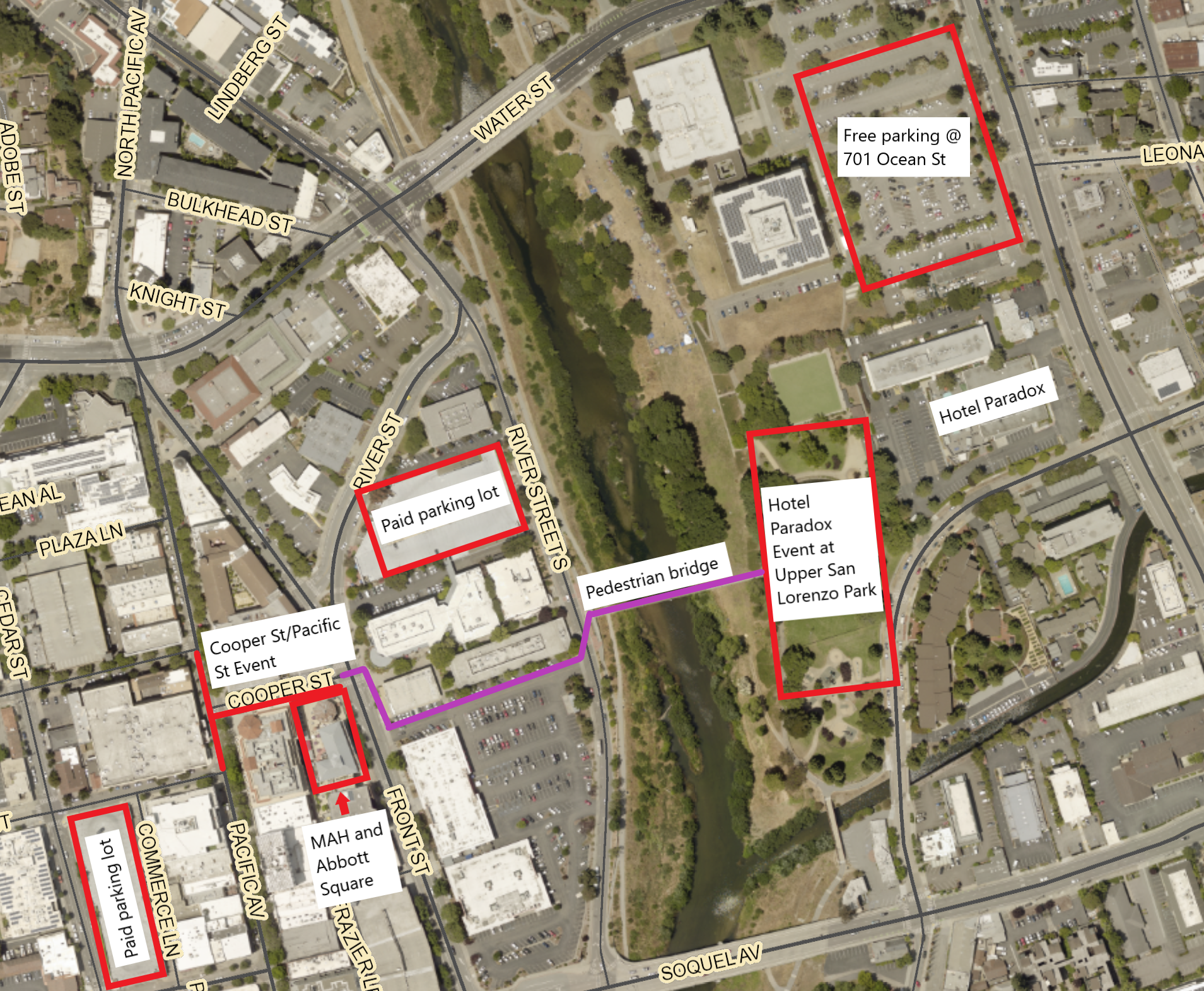 Hotel Paradox/Upper San Lorenzo Park Celebration
A day to celebrate this beautiful park in Santa Cruz and a day to acknowledge the many hands it took to open the space up for the community to enjoy safely and beautifully. At Upper San Lorenzo Park, we are bringing together the community to share what they do best.
Activities for all to partake, Maker's Market featuring local Artists, Food Trucks, Beverage Vendors, Lounge areas, mini-Yoso spa, Coffee station, informative booths from the History of San Lorenzo Park to sustainable tips, Paradox VIP lounge and a day of entertainment: Kuumbwa Jazz Honor Band, DJ set, La Familia de la Calle, Ripatti & Rose and Soul Majestic! Great day to celebrate!
10:30am-11:45am Interfaith Ceremony
On Duck Pond Stage
12:15pm – 12:45pm Kuumbwa Jazz Honor Band
1:15pm – 2:00pm La Familia de la Calle
2:30pm – 3:15pm The Dylan Rose Band
3:45pm – 5pm Soul Majestic
In Park Tavern (21+)
Fruition Beer | SLIP Pilsner & Snack Session Sour
Bargetto Winery | 2019 Syrah & 2021 Chardonnay
Purchase drink tickets in Park Tavern and at Paradox Welcome Booth!
Food Trucks in Hotel Paradox Parking Lot
Ate3one
Epoch Eats
Le Fenice
Pesce Veggie
Samba Acai
Woodstock Pizza
In the Park
Penny Ice Creamery
Verve | Midtown Surf Shop & Coffee Bar
Artist's Market, Trike-a-pose, Primal Henna Arts, Brenda's Face Painting, Boys & Girls Club |Giant Connect 4 and Arts & Crafts and Mini-Yoso Wellness Spa, Information Booths: Coastal Watershed Council, Youth for Enviornmental Action, San Lorenzo Park Neighbors (SLPN), Ethos & History of San Lorenzo Park!